Background
Vocational education and training (VET) has a key role to play in preparing young professionals for the challenges of a rapidly evolving global and digital economy. However, education often operates in isolation from the business world, with a widening gap between the skills provided by schools and those required by employers.
The labour market needs practical knowledge, and textbooks tend to be dominated by theory. Textbooks are not motivating enough for students born into the digital world and contain very few real-life examples from work situations. While most workplaces expect staff to work in a project-oriented way, the project approach and its associated forms of work are still not integrated into training, and a significant number of trainers are not yet prepared to apply the project approach. The multidisciplinary approach is difficult to integrate with traditional teaching methods, even though young graduates need to apply knowledge and skills from different subjects at the same time to solve workplace problems. While employers expect prospective employees to work in teams and on projects, the project method and related forms of work are not widespread in VET and project-based teaching methods are often missing from the toolbox of VET teachers.
Objectives
The aim of the project is to reflect the needs of the labour market in vocational education and training, to prepare teachers to work with companies to develop project tasks for students and future employees to solve real problems proposed by them. To achieve this objective, the partneship:
 
review the curriculum, learning materials and teaching methods used in the initial training of IT and Agricultural sectors in the partner countries; 

train VET teachers of these sectors about the project method, related digital tools, innovative assessment practices and digital content creation;  

assign real-life project tasks for VET students, in close collaboration of teachers and labor market representatives;

create a repository of project-based, re-usable, high-quality, motivating digital learning contents with an interdisciplinary approach;

prepare students for successful project implementation by designing and delivering mini-courses for them;

create a model to be published as a guide for teachers of other VET institutes.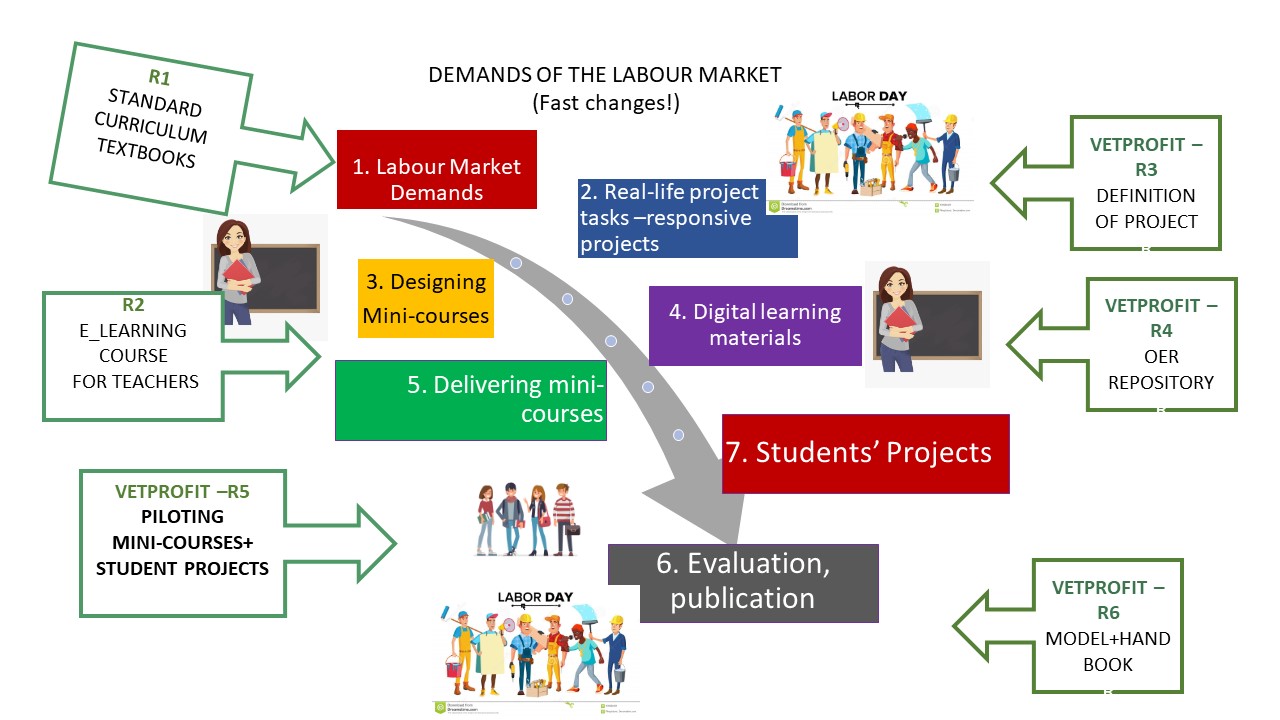 Target groups
VET- schools' leadership 

VET teachers/trainers 

Companies (Agriculture and IT sectors)
Beneficiaries
Results
R1 – A study on 21st century relevance of textbooks and learning content
R2 - PBL with interdisciplinary approach – blended course for VET teachers
R3 - Labor market-oriented projects for students
R4 - Repository of re-usable digital micro-learning content for VET
R5 - Mini-courses and projects for VET students
R6 - Methodology of developing, publishing and re-using digital micro-learning contents – a guide for VET expert teachers